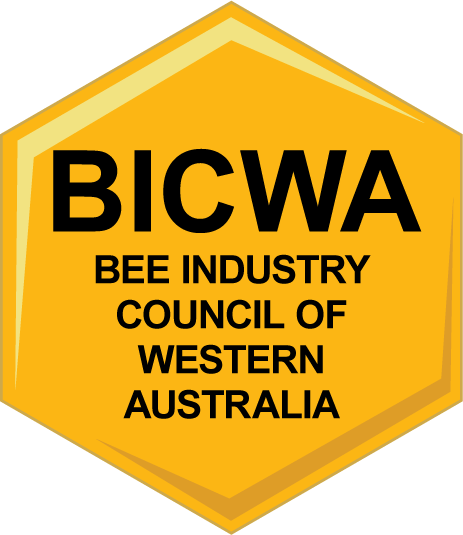 BICWA


Bee Industry Council of Western Australia Limited



Representing WA Beekeepers and West Australian Honey
Bee Husbandry
Report Pets and Diseases
Click on the submission form to report pests and diseases: DPIRD Diagnostic Laboratory Services (DDLS)
animal disease investigation submission form
​
Honey Bee Barrier Management System
​
​
​
​
​
​
​
​
​
​
​
​
Bee Aware
Australia has a healthy bee population and there are things that every beekeeper can do to keep it that way
​
​
​
​
​
​
​
​
​
​
The Bee Biosecurity Video Series has been developed to let you know how you can help as well as the ways in which government, research organisations, plant industries, private companies and organisations with an interest in honey bees are all contributing to preparing for an incursion of the exotic pest varroa destructor.
The series of 12 videos covers a broad range of topics including honey bee biosecurity and surveillance programs, a hypothetical varroa destructor incursion in Australia and what it might mean for beekeepers and crop producers, information about the life cycle of varroa and hive inspections, and ways in which varroa can be controlled if it enters and becomes established in Australia.
The videos are short—5 minutes or less each. Unlike others available, the videos have been produced for Australian beekeepers and growers.
Plant Health Australia (PHA), the coordinators of the government-industry partnership for plant and bee biosecurity in Australia and Plant & Food Research New Zealand produced the videos. They were sponsored by a partnership including:
Australian Government Department of Agriculture and Water Resources

Horticulture Innovation Australia

Australian Honey Bee Industry Council

Wheen Bee Foundation

Capilano Honey

Bayer Crop Science

Syngenta
PHA and partners have undertaken a suite of honey bee biosecurity projects. Some are efforts to prevent an incursion, while others aim to assist our industries, including plant producers, to prepare for the changes that varroa destructor is likely to bring.
For more information on bee biosecurity and to view the videos go to beeaware.org.au.
​
​
B-QUAL June Newsletter 2018
​
​
​
​
​
​
​
​
Do you have your Q-QUAL certification? Anyone who produces a food product today should be seriously considering completing the QA program. If you haven't done the program, take the time to check out the B-QUAL website for further details or contact them on 1800 630 890.
​
Check out their latest newsletter for June 2018.
​