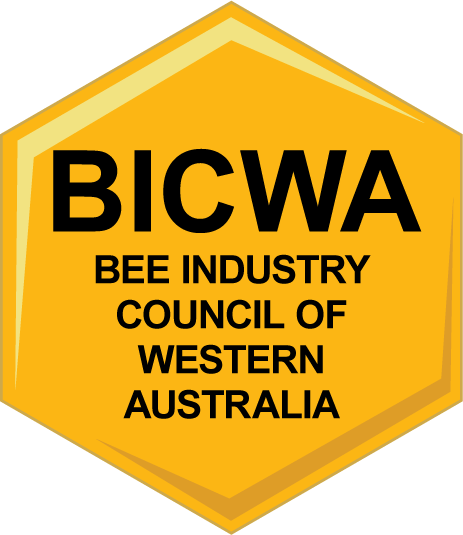 BICWA


Bee Industry Council of Western Australia Limited



Representing WA Beekeepers and West Australian Honey
BICWA receives regular updates from our Biosecurity team at DPIRD
​
We endeavour to keep you updated

on the most recent changes and notices.
However, make sure you have a current DPIRD Beekeeper Registration Card on you when moving bees.
​
​
DPIRD understands there is angst about how the intrastate movement conditions (i.e. movements across regional boundaries) will impact the industry.
​
The latest notice about Prohibition on regional travel restriction identifies beekeepers as
primary producers and therefore fall under Specialist skills item 7(l)

In basic terms, if intended travel does not meet these requirements, people should not travel.
If they think they meet the requirements, they should have evidence of their travel need. This would be your up to date DPIRD registration card.
​
Unless advice changes, beekeepers are asked to please note the following when travelling past WA boarders for beekeeping purposes:
​
Have your travel letter with you (download the template, fill your details in and print it out)

Keep your current DPIRD issued Beekeeper Registration card with you

G2G passes can be required at border checkpoints (plan ahead, an application outcome can take up to 4days)
Ensure all your hives are branded in accordance with current legislative requirements

That you have appropriate signage to install at the new location in accordance with current legislative requirements

Maintain records in accordance with current legislative requirements

Please advise current hive numbers directly to Brands Office (if different to what is recorded on the system)
​
An extract from Biosecurity and Agriculture (Identification and Movement of Stock and Apiaries) 2013 is available, please email info@bicwa.com.au if you would like a copy.
​
Should you have brand-related queries, please contact DPIRD Brands Office on 1300 926 547 or email Brands.Bunbury@agric.wa.gov.au
​
If you have a bee biosecurity concern please email PBHoney@agric.wa.gov.au
​
For any further questions please contact BICWA on info@bicwa.com.au
and check our FACEBOOK page regularly.
​
Forms and notices to your hand:
​
​​
​
​
Feedback Experience:
​
- 4th May 2020
Beekeepers without G2G app having troubles passing the border checkpoints can call 1326 843 from 7 am. However, it's recommended to download the app before travelling.
​
- 29th April 2020
"I've been through 4 roadblocks about 12 times over the last few weeks at all times of day/night and no issues.
Been asked for drivers license and reason and volunteered DPIRD hive rego paperwork a couple of times.
I registered for g2g Monday and downloaded the app, only took a minute or so, got confirmed in about 24hrs.
Now I just show the app they scan the QR and good to go.
Definitely makes the stop quick and easy!"
​
​
​