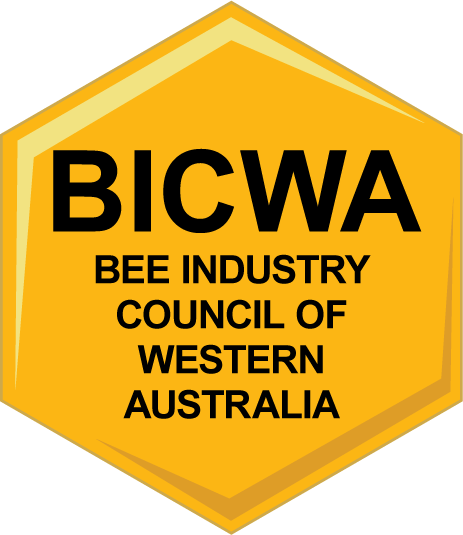 BICWA


Bee Industry Council of Western Australia Limited



Representing WA Beekeepers and West Australian Honey
Honey Month - May 2019 Calendar of Events
Program
During the month of May the beekeeping industry has designed some creative and fun-loving events all around Perth. We are very excited to have more than 30 events, activities and master classes and listed them as follows:
​
Come and celebrate with us a Honey Month full of fun – excitement – and bee learning.
​
​
Situated on the banks of the Swan River, just 25 minutes from Perth CBD and the Airport, Mandoon Estate offers something for everyone!
From fine dining restaurant, microbrewery, purpose built function centre, cellar door with private cellar door tasting, deli and luxury room accommodation. A perfect place to bee and stay!
Address: 10 Harris Road, Caversham
Infos: mandoonestate.com.au/
Bookings: events@mandoonestate.com.au or contact the Mandoon Estate team 6279 0500
Honey Inspired Dinner - Thu 23rd May
​
The Homestead Brewery is a wonderful relaxed place to enjoy this beautiful Honey Inspired Dinner. The menu reads like Honey – don't you agree? Honey glazed lamb ribs, parsnip, celeriac / Honey infused pork belly, braised red cabbage, pear / Figaro Cheese with natural honeycomb / Walnut cake, date, milk, honey, ice cream.
Date: 23rd May
Time: 6.30pm
Price: $59pp
Bookings: call 6279 0500 or events@mandoonestate.com.au
Exquisite Honey Dessert - Wed 1st - Fri 31st May
​
Wild Swan is Mandoon's contemporary, fine dining restaurant, overlooking the manicured gardens and the Lawns at the Estate. Executive Chef Michael Hartnell and Executive Sous John Baxter offer a Honey inspired dessert available Wednesday – Sunday for the month of May.
​
Date: 1st - 31st May
Time: Wed – Sun 12pm – 3pm, Fri – Sat 6pm – 9pm
Bookings: call 6279 0500 or events@mandoonestate.com.au
Honey Inspired Dessert - Wed 1st - Fri 31st May
​
At Mandoon Homestead Brewery, the vibe is relaxed and the menu is full of big, bold flavours to complement the house's own craft brews. A Honey inspired dessert is available every day for the month of May.
Date: 1st - 31st May
Time: Mon – Fri 10am – 8.30pm, Sat 7.30am – 8.30pm
Bookings: not required
Honey Tasting - Every Saturday and Sunday in May
​
Make like John Septimus Roe and stake out your patch of perfect by the banks of the Swan River. The grounds of his original homestead, called the Lawn, provides a casual, family-friendly, alfresco area with picnic tables, a fully enclosed playground and live music on the weekend. Beer, wine, cider and soft drinks are available from the garden bar, and picnic/style charcuterie and cheese platters, salads, pizzas and homemade ice cream from the delicatessen.
Experience a complimentary Honey tasting with House of Honey products on weekends through the month of May.
Date: every Saturday and Sunday in May
Time: 7.30am – 8.30pm
Bookings: not required