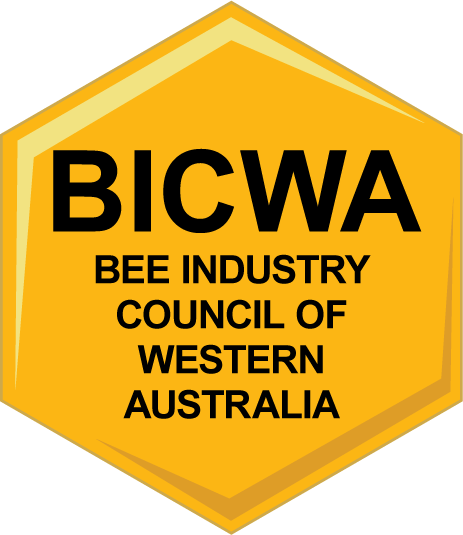 BICWA


Bee Industry Council of Western Australia Limited



Representing WA Beekeepers and West Australian Honey
Frequently Asked Questions
​
​
Industry Groups
​
What are the main industry groups for beekeeping?

BICWA is the overall group established in 2015 to represent the below groups to .....

Australian Honey Bee Industry Council (AHBIC)

​
​
​
Jarrah Honey
​
I am concerned about levels of pyrrolizidine alkaloids in Jarrah honey and do your bees have access to Paterson's curse, fireweed etc?

Jarrah honey is sourced from the Jarrah Forest which is away from any farmland that may have Patersons Curse flowers, this is the flower from which the PA's you are concerned about come from but in WA From a WA point of view it isn't an issue, we have NO known sources of honey from Patterson's curse,(or any other high PA species. Fireweed etc) Our Jarrah honey is mostly from Crown land.

We are wondering where we can purchase Jarrah Honey from and the cost?
​
Most of the beekeepers listed on the Jarrah website will be able to send Jarrah honey to you directly, so please email them directly. Alternatively Chemist Warehouse also sells Jarrah Honey with a brand name of Barnes Jarrah honey, this is available on line too.
​
​
Feeding Bees
I am a registered beekeeper with a flow hive and have been asked to feed sugar water to my bees. Should I do this in January in Western Australia as I am worried the bees might die and/or eat their lava?
​
It is recommended to feed your bees 50/50 sugar water ratio to ensure they have feed if there isn't any nectar to be sourced from surrounding bushland/plants. Alternatively you could move the hive to a more productive location. The Redgum should start late January.
​
​
Purchasing Bees
Where can I purchase a nucleus hives from?
​
​
Keeping Bees & Sell Honey
I am just starting to become a beekeeper, I have registered and have several hives. My intention is to develop and become a seller as I near retirement. I would like to know what qualifications and how I go about getting these so I don't breach regulations.

With regards to the beekeeping, if you aren't already aware the WA Apiarist Society meet on the first Thursday of each month at the South Perth Community Centre at 7.30 and here you can obtain some assistance with regards to the management of your beehives. By joining this group it will keep you linked into any courses etc that may occur through the year. As far as any other qualifications go there are none, just that you be registered with Dept of Agriculture.

I have attached the most recent labelling laws for your consideration when designing your label. You will need to register with your local health department as a packer of honey so that they can see it is packed in appropriate conditions for health laws and issue you with a certificate of safe food practices. Most councils will require this if you are planning on selling at local markets/festivals. There is a free Food safety course you can do online which covers basic hygiene knowledge with food handling, there should be a link on your local council website. Click here to find out getting started information that may be useful.
​