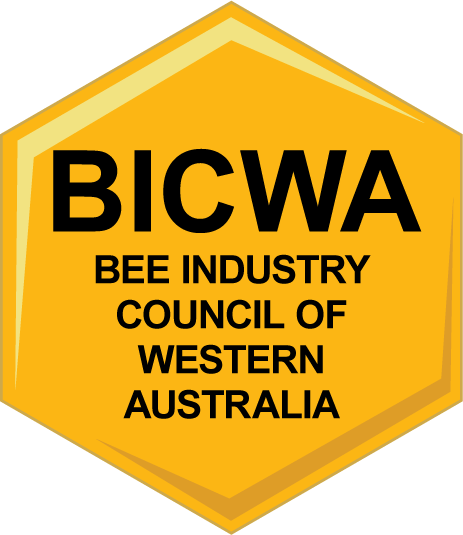 BICWA


Bee Industry Council of Western Australia Limited



Representing WA Beekeepers and West Australian Honey
Despite the difficult time, we are all going through at the moment,
- COVID-19 - won't stop us celebrate Honey Month MAY 2020.
​
We are very excited to present you with the Honey Month Festivities list and THANK all participants for their support!
​
During the month of May, we bring activities, demos, tours and much, much more to your home.
​
Follow us on Facebook and Instagram and don't miss out on the virtual Honey Month celebration.
​
​
Cancelled
Key Events
​
​
15th May
​
Beekeeping Conference @ Mandoon Estate
​
After much deliberation, the BICWA committee has

decided
to cancel the 2020 Conference due to the

potential health risks
to all our attendees.
​
We are already busy organising next years

Conference,
held from 29th June to 1st July 2021.
​
Together with CRC HBP we plan the event

called:
​
​
​
​
​
​
​
​
​
​
​
​
​
​
​
​
​
​
​
​

24th May
​
Honey Festival
​
Our Honey Festival is part of the nationwide Honey Month of May and for the second time hosted at the Gidgegannup Showgrounds as part of The Small Farm Field Day. We thank our major sponsor, Hive and Wellness, for their ongoing support. Enjoy a great day full of information and fun for everyone. Come along and enjoy the day in the fabulous setting of Gidgegannup just 15 minutes from Midland. We will again have a Honey and a Honey cake competition with this year's new addition of an under 15's section. No excuses not to be part of it! Your entry form will be uploaded soon. Come on the day and get an exclusive honey cooking demonstration, listen to the winner of the 2020 Australian meeting of Young Beekeepers, Luke de Laeter, learn from Debbie Taylor what trees to plant for a bee-friendly garden and start now to fresh up your Waggle dance moves to join our Festival our Queen and her working bees. We have received a fantastic variety of good quality stallholder applications and can't wait to have them all in our Honey Festival area. And of course, there will be the best quality WA Honey for tasting and purchase.
​
​
​
​
​
​
​
Honey Festival is proudly sponsored by: