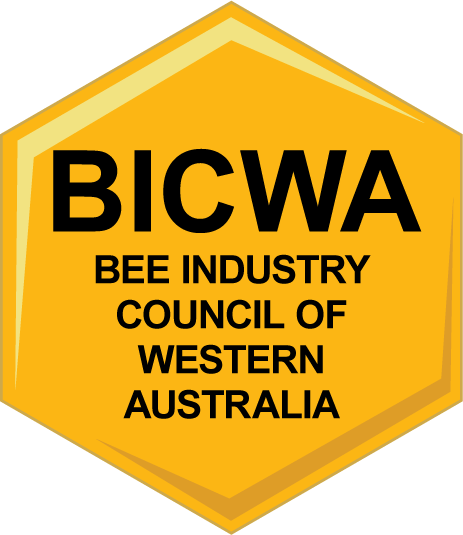 BICWA


Bee Industry Council of Western Australia Limited



Representing WA Beekeepers and West Australian Honey
We are very excited to present you the Honey Month Festivities calendar and THANK all participants for their support!
​
During the month of May, we hold an array of events and bring activities, demos, tours and much, much more also to your home.
​
Follow us on Facebook and Instagram and don't miss out on the virtual Honey Month celebration.
​
​
Key Events
​
​
​
​
30th May
​
Honey Festival
​
Our Honey Festival is part of the nationwide Honey Month of May and for the second time hosted at the Gidgegannup Showgrounds as part of The Small Farm Field Day.
Enjoy a great day full of information and fun for everyone. Come along and enjoy the day in the fabulous setting of Gidgegannup just 15 minutes from Midland. We will again have a Honey and Honey cake competition with this year's addition of an under 15's section. Due to popularity, we added a new category, THE MEAD COMPETITION, another wonderful bi-product from our little worker bees. No excuses not to be part of it!
Click below for your entry form:
​
​
Come on the day and get an exclusive honey cooking demonstration by Chef Dale Sniffen, honey / Bush food tasting with Dale Tilbrook from Maalinup Aboriginal Art Gallery, listen to the inspirational young beekeeper, Luke de Laeter, participate in cool scientific experiences with Scitech, and witness the Competition ceremonies.
​
We have received a fantastic variety of good quality stallholder applications and can't wait to have them all in our Honey Festival area. And of course, there will be the best quality WA Honey for tasting and purchase.
​
​
​
​
HEADs up:
30th June & 1st July
2nd July Industry Tours
​
​
This year not in May but June/July 2021 we have organised a fantastic

2 day Conference joint with the Cooperative Research Centre for

Honey

Bee Products (CRC HBP).
​
Program and ticket sale is available through the link below:
​
​
​
​
​
​
​
​
​
​
​
​