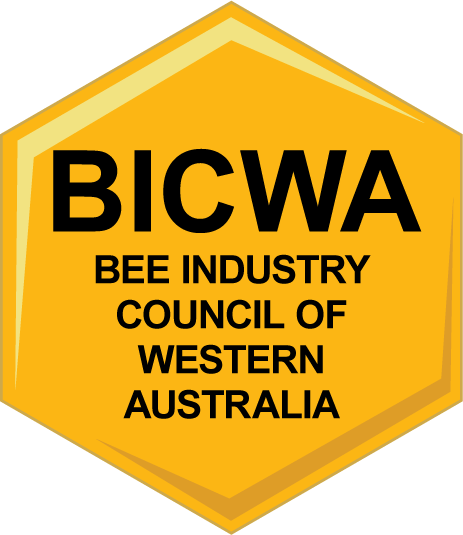 BICWA


Bee Industry Council of Western Australia Limited



Representing WA Beekeepers and West Australian Honey
​

Chris Hiatt , Hiatt Honey Company, Washington USA, Vice President of the American Honey Producers Association.
Chris is one of five brothers that makes up the Hiatt Honey Company, a business started 50 years ago by their father. The Hiatt Honey Company runs approximately 20,000 hives migrated between California, Washington and North Dakota.
Chris will provide talks over the two days which will include the history of his company and a typical year for an American commercial beekeeper starting on California almonds in February, moving to Washington for apples in April and then on to the mid-west for honey and back home for winter.
​
Chris grows almonds and will talk about pollination and the growing challenges that they have state-side. He will also discuss the struggles of American honey producers and the latest research coming out of America.
Professor Ben Oldroyd, University of Sydney
Ben Oldroyd is Professor of Behavioural Genetics at the University of Sydney. Ben completed a BSc (Agr) in 1980, PhD at the University of Sydney in 1984 and a Doctor of Science in 2005. Ben's research focuses on the behavioural genetics of honey bees, the evolution of social behavior and evolution more broadly.
Ben is also heavily involved with the Australian beekeeping industry, including helping beekeepers breed better, healthier strains. Ben has made important contributions to understanding the genetic basis of worker sterility in honey bees. His book Asian Honey Bees: Biology, Conservation and Human Interactions (Harvard University Press) is the authoritative text on the subject. Ben has authored nearly 300 scientific papers on bees and social insects.
Des Cannon, Past Commercial Beekeeper, Editor of The Australasian Beekeeper.
Des started keeping bees in 1978 while a high school teacher in Canberra, then progressed to teaching beekeeping as a high school horticultural course. In 1984 his hobby became a full-time career, working as a commercial beekeeper for 25 years. His science background played a role with 11 years on the RIRDC Honeybee R&D Advisory Committee, the last five years as Chair. His passion for education also continued, for over 10 years teaching courses in 'Beginning in Bees' and 'Beekeeping as a Business' as an education officer for the NSW Department of Agriculture. In 2007 he became editor of the national beekeeping journal, The Australasian Beekeeper.
​
Des will be presenting on two topics 'Turning your Beekeeping Hobby into a Business' and 'The German Breeding Program' including the history and the varroa resistant part of the program, how they evaluate their success, island mating, the isolated forest mating, and their AI program, which helps to disseminate the desired genes across the whole country and into France, Belgium and Lichtenstein.
Dr Katja Hogendoorn, University of Adelaide
A Research Associate at the University of Adelaide, Dr Katja Hogendoorn's main areas of research are native bee behaviour and taxonomy, crop pollination, revegetation for crop pollinators and the use of honey bees as flying doctors to deliver biological control agents, as an alternative for fungicidal sprays during flowering.
​
Dr Katja will be presenting on 'Marketing revegetation for crop pollinators: what's in it for beekeepers?' and 'Tailoring revegetation to enhance crop pollination: timing, rewards and crop rotations.
Graham Laslett, Principal Agronomist, Combined Agronomic Service
Chemicals: how they're used, when they're used, why they're used and how much is used.
Graham's presentation will provide useful information on how to navigate around potential hazards of agricultural chemicals and increase confidence when dealing with farmers to ultimately remove some of the spectre surrounding agricultural chemicals.
Kingsley Dixon, Curtin University
Kingsley is unable to attend the conference in person but will prepare a taped presentation for the delegates to view. Kingsley discuss the effect that burning has on the forest and the impact to all nature.
Professor Madeleine Beekman, University of Sydney
Madeleine is a professor in Behavioural Ecology at the University of Sydney. Madeleine has always been fascinated by insects in general and social insects in particular. Madeleine completed her PhD at the University of Amsterdam on bumblebees. After finishing her PhD in 1998, she moved to the University of Sheffield, where she worked both on honeybees and ants, a 'tradition' she maintained after her move to the University of Sydney in 2001.
Currently Madeleine's main honeybee research interests are conflict and cooperation in honeybee colonies and the evolution of virulence of honeybee RNA viruses. Madeleine will be presenting some interesting work on Deformed Wing Virus she has recently published. For more information on her recent research see https://sydney.edu.au/news-opinion/news/2019/01/30/study-shows-dangerous-bee-virus-might-be--innocent-bystander-.html?cid=em_se-feb-2019
​
For more information about Madeleine's lab and the research the lab is involved with, see http://sydney.edu.au/science/biology/socialinsects/index.shtml
Dr John Roberts, CSIRO
Dr John Roberts leads the bee pathology research at CSIRO with projects focused on improving the biosecurity and health of Australia's managed and wild honeybees. His recent research has included genetic studies of emerging Varroa and Tropilaelaps mite pests in Papua New Guinea, examining viruses and other pathogens associated with Australian honeybees, including the invasive Asian honeybee population in northern Australia, and analysing the effects of nutritional management on Nosema and virus infections. John will be presenting on his recent Varroa and virus research in Australia and Papua New Guinea.
Jacinta, Agronomist at Jasper Farms in Busselton Western Australia.
Jasper Farms is Australia's second largest avocado producer with 5,000-6,000 tonnes of avocados harvested per year. Currently Jasper Farms has 380 hectares of avocados and will have 396 hectares by spring of 2018. 221 ha of this is in full production, while the remainder are at various stages of maturity. Jasper Farms has recently been acquired by Ontario Teachers Pension Plan, Canadas largest single profession pension plan.
​
Jasper Farms contracts pollination providers to supply hives for pollination of the orchards. Jasper Farms hires approximately 1,300 full hives (equivalent to 2,600 pollination hives) during the flowering period.
Jacinta studied a Bachelor of Science (Honours) in Agricultural Science at the University of Western Australia. Jacinta graduated in 2015 and has been working at Jasper Farms since. Jasper Farms puts science into practice, with a focus on innovation to gain incremental improvements.
Jacinta will be presenting on the logistics of avocado pollination and the use of pollination services to maximise pollination outcomes.
Dr Ian Foster, Climatologist, DPIRD
Dr Ian Foster has a background in many aspects of atmospheric science, from the development of tropical cyclones in the northwest of WA, to researching transpiration and energy budgets of trees (CSIRO), as well as atmospheric pollutant modelling. He has been climatologist at DPIRD since 1989 and was a founding member of the Indian Ocean Climate Initiative in 1997.
​
Ian's work covers the effects of climate and weather on agriculture in WA, with emphasis on variability and change. This includes a wide range of agricultural and climate research and delivery, from seasonal prediction, seasonal reporting, use of climate information in decision-making, weather monitoring and researching impacts from climate change.
Professor Giles Hardy, Murdoch University
Professor Giles Hardy is an expert in forest pathology and natural ecosystems, in particular, how biotic and abiotic plant diseases impact on ecosystem function and health.
He has research collaborations in remote sensing, eco-hydrology, entomology, molecular plant pathology, plant physiology and nutrition, fungal genetics, microbiology, soil health, restoration ecology, and native fauna among others.
Professor Hardy is currently Director of the State Centre of Excellence on Climate Change, Woodland and Forest Health, and Director of the Centre for Phytophthora Science and Management.
Danny Le Feurve, Commercial Beekeeper, Australian Bee Services
Danny is the founder and managing director of Australian Bee Services (ABS) based in Ardrossan South Australia. ABS has 1400 hives on mainland SA and 300 hives on Kangaroo Island. The business is split 50:50 on honey production and pollination. His previous experience includes irrigation consultancy, breeding GM canola, broadacre agronomy, research, development and extension.
​
Danny is currently an executive on the South Australian Apiarists Association, Chair of the Apiaries Alliance SA, SA state rep. to AHBIC, member of the AgriFutures Honeybee R&D Advisory panel and sits on several research project steering committees. He has completed a Bachelor of Applied Science at Melbourne University and is currently a candidate for a Masters in Agribusiness at University of Adelaide.