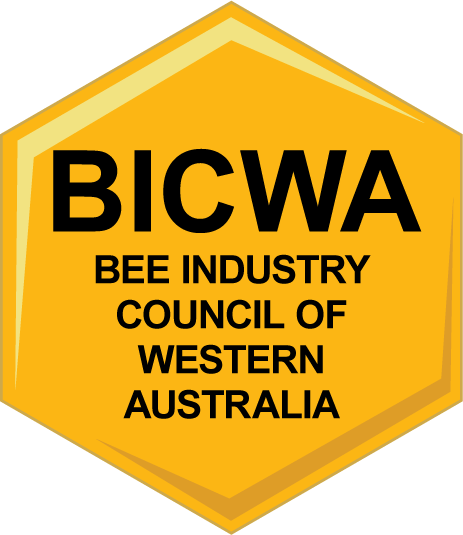 BICWA


Bee Industry Council of Western Australia Limited



Representing WA Beekeepers and West Australian Honey
Honey Month - May 2019 Calendar of Events
Program
During the month of May the beekeeping industry has designed some creative and fun-loving events all around Perth. We are very excited to have more than 30 events, activities and master classes and listed them as follows:
​
Come and celebrate with us a Honey Month full of fun – excitement – and bee learning.
​
​
Shiraz/Honey Cocktail, Henley Brook - Thu 16th - Sat18th May
​
Come and enjoy the serenity of a family owned boutique winery in Western Australia's oldest wine region, the picturesque Swan Valley in Perth. Treat your tastebuds to something very unique, and exclusive to Swanbrook Winery, a Shiraz Cocktail made from a secret recipe that's been infused with local honey. Enjoy premium honey samples, along with quality wine tasting, and take the opportunity to indulge in sumptuous food made from fresh local produce in Rae's Kitchen."
Date: 16th – 18th May
Time: 11am – 4pm
Place: 38 Swan Street, Henley Brook 6055
Bookings: not required, for more visit: swanbrook.com.au
Walk & Talk, Bellevue - Sat 18th May
​
For new beekeepers:
Talk and walk through the life of a honey bee with Barry and see a practical demonstration and extraction.
We welcome all questions and will endeavor to answer them.
Free cuppa afterwards - bookings essential as there are only 20 spots available.
Date: 18th May
Time: 2pm
Place: 2 Wells Road, Bellevue
Price: FREE
Bookings: essential, please call 9274 5062
Cheese & Bees, Millendon - Sun 19th May
​
The Cheese Barrel and the Beekeepers from The House of Honey are pairing up to bring you a trio of delights.
The Art of beekeeping will be brought to you by Rupert and his apprentice beekeeper Matthew. They will direct you in some strong foundations to start your beekeeping hobby.
Rupert has been working with bees and collecting honey since he was a child and this is a wonderful opportunity to learn from his wealth of knowledge and experience. View a section of a hive, learn about the different roles each of the bees play and experience a honey extracting demonstration.
The experience staff from the Cheese Barrel will then have fun pairing honey and cheese. There are so many combinations and they can't wait to share them with you.
Lastly you can enjoy a sample of Mead (Honey Wine). We will talk to you about Meads and their different styles whilst all happening in the wine basement!
Added extras allow you to visit Olive Farm Winery or The Cheese Barrel for lunch of a Honey Month Cheese Board.
Date: 19th May
Time: 10am – 12pm
Place: The Cheese Barrel, 920 Great Northern Highway,
Millendon 6056, held in the Olive Farm Wine basement
Price: $35pp
Bookings: Ticketed event through Eventbrite (Limited to 60 tickets)
Honey Month Cheese Board, Millendon - Wed 1st - Fri 31st May
​
The Cheese Barrel is the perfect setting, pairing 'far away feels' with a great range of local produce so close to home. Good old fashioned hospitality, the Swan Valley's largest selection of local & international cheeses and stunning wines produced next door at Olive Farm Wines. The hardest thing you'll have to do is choose your favorites. Specially arranged for the Honey Month: board with 3 Premium selected cheeses served with honey, seasonal fruit, freshly baked bread & lavosh.
Date: 1st – 31th May
Time: Monday – Sunday 10am – 5pm, available to order
every day
Place: 920 Great Northern Highway, Millendon 6056
Price: $39
Bookings: not required, for more visit: thecheesebarrel.com.au